2019 United States Navy Gold Star Program
Sebastian Ranger Pellerito CVMA State Public Relations Officer and Life Member FM- 4771

BELLS ACROSS AMERICA
For Fallen Service Members
Forever Loved, Never Forgotten
Join us as we pay tribute to the brave men and women who died in service to our nation and recognize the sacrifices of those who have been left behind as we toll a bell in remembrance.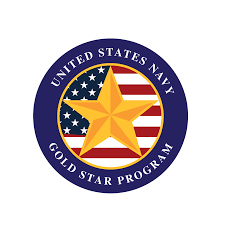 REMEMBERING OUR HEROES
NCBC GULFPORT September 26, 2019, 1000 at Training Hall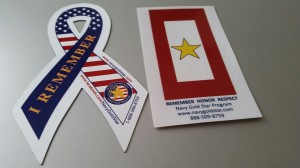 Navy WIDE, Gold Star Program
Our service members who die on active duty have made the ultimate sacrifice, and the Navy is committee for supporting their families. The Navy Gold Star Program services our Survivors by providing support information, and resources for as long as they desire. The Navy Gold Star program extends to the families of all who died while on active duty, regardless of the branch of service or cause of death.
Reading of Names & Bell Ringing
Mayor George Bass, City of Long Beach, MS
Mayor Chipper McDermott, City of Pass Christian, MS
SPC Bryan E. Barron, USA
MAJ Robert Belcher, USAF
P02 Eduardo L. Blanco
PO1 Corwyn A. Booker, Jr, USN
P01 Jerrell R. Boswell, USN
A1C Brian Bradford, USAF
PO3 Emmette A. Brown, USN
PO2 Devan G. Brunson, USN
LTJG Wallace E. Burch, USN
CPT Tiffany Q. Burns, USA
SN Matthew A. Chialastri, USN
PO1 Nathan L. Cole, USN
MSG Sean M. Cooley, USA
AN Jordan C. Cook, USN
SSgt James Davis, USAF
PO3 Grace K. Davis-Marcheschi, USN
MSG Coater B. Debose, USA
A1C Rhianda N. Dillard, USAF
TSgt Daniel Douville, USAF
CPO Harry R. Drake II, USN
PO1 Walter B. Driggers, USN
PO1 Christopher R. Eckman, USN
SR Kierra D. Evans, USN
PO3 Cassandra R. Garcia, USN
PO1 Christopher T. Gordon, USN
LCDR Nathaniel D. Gordon, USN
MAJ Michael L. Green, USA
CPT Robert Greer, USAF
LT William J. Hamilton, USN
CPO Daniel M. Harrison, USN
PO1 Ernest W. Henderson, USN
SF-C Glenn L. Holcomb, USA
PO2 Christian W. Hopkins, USN
GySgt Keith Howard, USMC
LT Nathan M. Hughes, USN
LT Randy K. Johnson, USN
PO2 Denarrius J. Kimbrough, USN
PO3 Ronald C. Kimp, Jr., USN
PO2 Dakota J. Kinkton, USN
PO3 Madison T. Landers,USN
Sgt Terrance D. Lee, USA
SSgt Donnie L. F. Levens, USMC
SrA Elizabeth Loncki, USAF
SSgt Bobby W. Lundy, USA
LTJG Asante K. McCaslla, USN
SPC John d. McCasland, USA
LTJG David R. Metcalf, USN
PO1 Eric D. Middleton, USN
CMSgt Thomas Moor, USAF
SrA Sean M. Morrissey, USAF
SR Kelsey M. Nobles, USN
PO1 John D. Null,USN
PO1 Robert L. Owens, USN
SSgt Dallas R. Pauls, USAF
PO3 Christian M. Peques, USN
CPO Nicholas K. Perkins, USN
PO2 Henry S. Price S. Price, USN
SSG Michael B. Quinn, USA
LT Christopher A. Reed, USN
PO2 Mikey D. Reese, USN
LT Patrick L. Ruth, USN
SGT Carl L. Seigart
PO1 Alton J. Shelman, USN
PO1 Maressa D. Shivers, USN
LT Christopher C. Short, USN
PO2 Scott E. Shy, USN
SSgt David C. Smith, USAF
PO1 Jacob C. Spangler, USN
LT Col Mark E. Stratton, USAF
VADM Scott A. Stearney, USN
LTJG Scott P. Stephen, USN
PO2 Kyra A. Sutton
PO3 George E. Thompson Jr,. USN
PO1 Antonio D. Venturacontreras, USN
Sgt Daniel R. Vernado, USA
CPO Andrea L.Washington, USN
PO1 Floyd E. Watson, USN
PO1 Brandon M. Wilkie, USN
PO1 Timothy J. Williams, USN
SSgt Taylor Wilson, USMC
The Legacy of heroes is the memory of a great name and the inheritance of a great example"
– Benjamin Disraeli