2018 National Convention, El Paso Texas
2018 National Convention EL Paso Texas.
June 18, 2018 through June 24, 2018.
Sanction Event
National President Scott Cobra Keefer.
Region One Representative Gary Cool Shot Jujan.
Mississippi State (Fifth) Representative Royce Gator Cannon FM- 12323. This was Gator's First National Convention as State Representative and Life Member. Mississippi State Public Relations Officer and State Historian, Sebastian Ranger Pellerito FM- 4771, State Delegation member and Life Member 00. Mississippi State 44 Guide On Flag has its (10th) National Convention Special Pendant EL Paso Texas 2018. Hosted by CVMA, Chapter 23-2 Regional 5 EL Paso Texas. National Convention will be at the Judson F. Williams National Convention Center EL Paso, meeting will be held at One Civic Center Plaza, EL Paso Texas 79901 1-915-534-0633.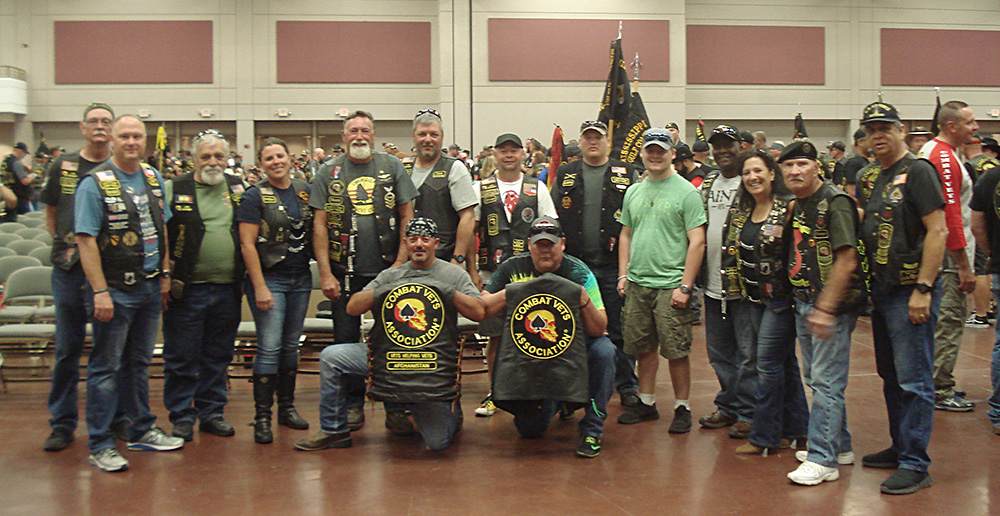 Our State Public Relations Officer Ranger had a meeting with the National Board of Directors. President Scott Cobra Keefer and received an outstanding compliment from him about our State Chapters and starting our new Chapter 44-2 (A) Detachment. In addition the National Executive Officer had a great time at our Regional One Rally in Biloxi. He loved our beach and all our casinos and mentioned that this is where Mississippi should have our National Convention in the future. What a beautiful place. Ranger had a meeting with our National Secretary, Kirk Spartacus Douglas and past National President and Green Beret, Michael Eagle, about our CVMA mission. This was an outstanding briefing.
History accomplishments for this year:
Special National Convention Pendant
On Saturday April 7, 2018 at 09:00 hrs we had a Special State 44 Meeting at McElroys Restaurant in Biloxi MS. (Past History) Our (First) State Representative Chuck Trooper Burkhard FM-1195 went to the 2007 National Convention in Lafayette, LA Region 5 on June 21 to June 24, 2007, which in turn authorized the State of Mississippi to place the special Lafayette, LA 2007 Pendant on the Mississippi Oldest Guide on Flag, Chapter 44-1. Lafayette LA. 2007 Trooper, St. Augustine, FL. 2010 Mad Dog, Fontana Dam NC. 2012 Sandspur, Deadwood SD. 2013 Ranger, Gettysburg PA. 2014 Ghost, Vietnam Wall DC. 2014 Ranger, Kansas City MO. 2015 Ghost, Milwaukee WI. 2016 Ranger, San Diego CA. 2017 Ranger, EL Paso TX. 2018 Gator,
Mississippi 44 has its 10th National Special Pendant. What an outstanding accomplishment for all Chapters 44-1, 44-2, 44-2 (A) Detachment and Chapter 44-4. members. On this trip to El Paso TX, Our (Third) State Auxiliary Representative, Amanda Greer, Aux- 8716, could not make the trip this year.
History Accomplishments for this year:
We have our (Fifth) State Representative Royce Gator Cannon FM- 12323 Life Member. Our State Professional Photographer MR. D. Diaz Sup-414 will take all photos for our History page. Also on this trip we have Two Mississippi Guide on Flags from Chapter 44-1 and Chapter 44-4 and our Flag Bearer Arties A. J. 007 Moody Sup-377 and Life Member.
The State of Mississippi opened a New Chapter 44-2 (A) Detachment with 10 New Members. Outstanding! The new commander is Freddie Wrench Wooten, FM-12822, and David Ghost Thompson, 44-2 (A) Detachment, Sergeant at Arms FM- 6228.
State members attended the National Convention:
Region One Representative, Gary Cool Shot Jujan , Life Member, FM-5668; Mississippi State Representative, Royce Gator Cannon, FM-12323, Life Member; Sebastian Ranger Pellerito, State Public Relations Officer, FM-4771, Life Member; Mike Buckeye Baldwin, Commander Chapter 44-1, FM-18577, Paul Rambler Marshall, Commander 44-4, FM-10463, Life Member; David Ghost Thompson, Chapter 44-2 (A) Detachment, FM-6228, Sergeant at Arms, Life Member; Arties A.J. 007 Moody, Sup-377, Life Member; Joseph MR. D. Diaz, Sup- 414, Chapter 44-1, Public Relations Officer, Life Member and Photographer; Annette Bad Habit Knight, FM- 7052, Life Member; Jennifer Phoenix Nelson, FM-18428; Shawn Booger Fellows, FM-18942; Christopher Slappy Gaston, FM- 20050; Buck Robin Torske, FM-2238; Weylin Lott, FM-19036; Lewis Holmes Wardell, FM-9122; Christy McCormick, Aux- 20088; Dianne Holmes, Aux-9122; Missy Thompson Honeybadger, Aux-6228; Christi Marshall, Aux-10463.
– RANGER